4th message
On the occasion of assuming the presidency of the third term of Japanese Society for Amino Acid Sciences (JSAAS)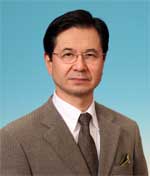 It is a great pleasure for me to be appointed as the president of the third term, fiscal year 2011-2012. Owing to the leadership capability of Prof. Motoni Kadowaki, the former president of JSAAS for the first and second term, our society has shifted smoothly from The Research Committee of Essential Amino Acids. The society developed into a better organization, and now it appears to have become more stable.
I would like to express my deepest gratitude and pay my respects to Prof. Kadowaki and the board members including the trustees in charge of general affairs.Above all I have a high opinion of Prof. Kadowaki's well balanced leadership in various fields, which has invigorated the society and has constructed a stable basis. During these periods I was appointed as a trustee in charge of financial affairs as well as a vice president. As the society has started the third term with new and reliable supporting members, I will do my best as a president.The main action policies of the Society are "Enhancing the foundation of amino acid studies and promoting amino acid awareness", "Enhancing interdisciplinary activities" and "Internationalization". Our plan at present is as follows.
 With regard to symposia and academic meetings, a "Summer symposium in Niigata " is scheduled under the direction of Prof. Kadowaki in September 2011. I will be chairman of the organizing committee to convene the Annual Meeting in Nagoya in November. At this meeting, the society and International Council on Amino Acid Science (ICAAS) Japan will jointly host the international symposium "Amino acid nutrition and sarcopenia." I believe this symposium will help contribute to internationalize our society as presenters from the U.S. and Canada will be invited to clarify the effectiveness of amino acids on sarcopenia, which seems to be a significant problem in aging. Preferably this symposium will be open to the public as part of our mission to deliver information on amino acids.
 In 2012, the Industrial‐Academic‐Government Cooperation (IAGC) Symposium and the Annual Meeting will be held. The symposium is planned by trustees in charge of IAGC, and the academic meeting will be executed under the chair of Prof. Yukari Egashira (Chiba University). Please refer to the further information on our homepage. With reference to interdisciplinary activity of our society, we plan to facilitate exchange and cooperation with academic societies such as the Japanese Society of Nutrition and Food Science and the Japanese Society of Surgical Metabolism and Nutrition. To be more precise, we proposed to hold the symposium at the 65th Annual Meeting of Japanese Society of Nutrition and Food Science (Tokyo) in May. In July, a co-hosted symposium will be organized at the 48th Annual Meeting of Japanese Society for Surgical Metabolism and Nutrition. We also eagerly anticipate exchanges with other academic society, such as the Japan Society of Tryptophan Research (JSTRY)and the D-Amino Acid Research Society.
In order to promote Internationalization of our society, we will host the symposium "New Wave of Amino Acid Science" at the Asian Congress of Nutrition in Singapore in July, 2011. In addition to the invited presenters from China and Thailand, Prof. Kazumi Yagasaki (Tokyo University of Agriculture and Technology) and Prof. Makoto Shimizu (The University of Tokyo) will deliver lectures. As it is indispensable to let our work be known internationally, we will continue to pour our energy into international activities in the future.
I do hope the research activities of all the members will be prosperous and fruitful to make the Japanese Society for Amino Acid Sciences (JSAAS) more energetic and appealing. Strong support from our members is essential to achieve our goal.
April 1st, 2013
President, The Japanese Society for Amino Acid Sciences
Yoshiharu Shimomura
Message from the successive president